The Vicar of Dibley comes to Barlborough's famous flower festival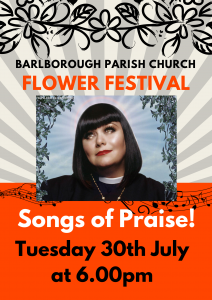 Barlborough Church celebrates its Festival of St James every year with a flower festival – dates this year are Saturday 27th July – Tuesday 30th July. This year's theme is TV we have known and loved.
The church's Rector, Rev'd Bryony Taylor is a self-confessed telly addict and wrote a book about Christians on the telly called 'More TV Vicar?' (DLT, 2016). She said, 'we chose television as this year's theme as TV is something that brings us all together, young and old. It is a mirror to our society: it shows us whole other ways of looking at things. Our floral displays this year will reflect our favourite programmes, old and new. One of the displays will show Songs of Praise, a perennial favourite. At this display visitors can vote for their favourite hymn and find out which is Barlborough's favourite hymn at a Songs of Praise service at the festival's close on Tuesday 30th July at 6.00pm.'
The Vicar of Dibley will be making an appearance! Visit the church between 10am and 5pm from Saturday 27th July until Tuesday 30th July. Refreshments are available on Saturday and Sunday from 2-5pm. On Sunday as well as our celebration Eucharist at 10am we have a special service of Choral Evensong at 6pm. On Monday 29th July at 7pm is a Quiz Night with wine and cheese – tickets available from church at £5 – there will be a TV round, test your knowledge!
The people of Barlborough Parish Church look forward to welcoming you.
Notes for Editors
Find out more about Barlborough Flower Festival on the church Facebook page: stjamesbarlborough.
The church is accessible for wheelchairs. The church postcode is S43 4EP.
The Rector is available for interviews and photographers are welcome.