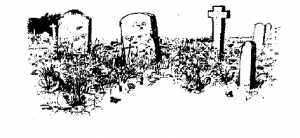 When someone about whom we care deeply has died we naturally want to remember them in a way which is appropriate and dignified.
Often this means putting a memorial in the churchyard at the place where the person is buried or a plaque above their cremated remains.
What is the right choice? Will it still seem appropriate and dignified twenty years from now. Who will maintain it? What is permitted?
The Churchyard
Churchyards are owned by the church. This means that the people who worship at the church ensure that the churchyard or a cemetery is sensitively maintained. There are many laws that lay down how they should do this. Some matters are the responsibility of the Vicar. Their purpose is to ensure that due respect is paid to graves, memorials and to the memory of the deceased. The regulation of all such matters in the Diocese of Derby is the responsibility of the Chancellor.
Historically it has been usual to place the responsibility for the tending of graves to relatives of the deceased. This resulted in the more recent graves being tidy but over time families would move away or die out and some graves became unkempt.
Today people expect a churchyard to be well maintained; but they can be difficult to mow because they are not flat; mounds, kerb-stones and bushes make it harder. In 2001 the churchyard of St James was closed to 'earthen' burials with ground care and maintenance becoming the responsibility of Bolsover District Council. Interment of cremated remains is still allowed.
It may be disappointing to be told that a particular kind of memorial is not permitted but the regulation has to be fair to everyone. Most people would rather see a tidy churchyard, even if it leads to restrictions.
Whilst the grass will be cut, please don't expect a green-baize quality lawn!
The Memorial
Putting any kind of monument in a churchyard, even altering a memorial which is already there, is covered by law. If you wish to renew a headstone, add an inscription or install a receptacle for flowers, there is a procedure that must be followed; by doing so you can avoid upset or disappointment later. There is an application form that sets down the material and size that will be in keeping and assist in preserving the dignity of the churchyard.
The reason for these restrictions is to avoid having some memorial stones which do not blend with the appearance of the church and the churchyard. They should be similar to those already in situ. Stone that looks very attractive in a stonemason's show-room can sometimes stick out like a sore thumb in a particular churchyard.
To understand what will be appropriate it is a good idea to take a walk around the churchyard – look at the style of the church itself, the kind of stone of which it is built and its setting. Try to appreciate the style and stone that will match; above all, consult with the Rector or a Churchwarden.
Memorials should not be highly polished. Surfaces that are un-polished change their appearance over time blending naturally with the environment. More guidance is set out in Diocese of Derby, General Regulations for the Erection of Memorials and Gravestones in Churchyards (1990).
The Grave/Plot
When you have bought a plaque from the stonemason it belongs to you but the land still belongs to the church. Part of the price is a fee that goes to the church for administration of the permission to install it. Before a plaque is put in place it is sensible to allow the disturbed ground to settle – usually a few months.
Sometimes, after the interment a small amount of earth left behind. This has only one purpose – to level the surface as the earth settles. Relatives of the deceased do not own the mound; it is a part of the churchyard. Enough time should be allowed for the ground to settle and then arrangements made for levelling, so that maintenance may be more easily undertaken.
Flowers
The best way to provide flowers is to incorporate a receptacle within the headstone/plaque. A metal vase (glass is dangerous) may be placed on a grave/plot provided it is sunk and is not visible above ground level.
Plants or other rooted shrubs are not permitted. They eventually grow beyond the designated area and their roots can disturb adjacent graves or remains in a cremation area where the plots are small. They can also make maintenance more difficult.
Artificial flowers should be avoided. Too soon they become dirty or discoloured and make for a neglected appearance. Exceptions are made for special occasions such as Remembrance Sunday.
If you bring flowers it is best if you take them away when the time comes. If you leave them, eventually the PCC or grounds-staff may remove them. Dead flowers make a churchyard look neglected. But volunteers who help to tidy the churchyard do not wish to run the risk of causing offence if they were to throw items away prematurely.
We have a refuse bin – please use it to discard flowers that have past their best but should it be full, please take them home.
A Fitting Memorial
The Church Council does its best to make sure that the churchyard is a worthy place for people to remember the lives of those who have died and give thanks to God for their time among us.
To achieve this depends upon voluntary support. The PCC values the care taken by relatives to tend graves and welcomes offers of help.
The 10th century church of St James is a Grade II* Listed Building. Please help us to protect and preserve its appearance and surroundings.
NB: Should ancient graves become or are looking to become a safety concern Bolsover District Council has the responsibility and authority to take unilateral action.
Prepared and Published by the Parochial Church Council of St James, Barlborough in the Diocese of Derby.