We are opening up our cosy warm church in Clowne every Thursday morning for people to come and socialise, have a free cup of tea or coffee and get out of the cold from 10am-1pm. Everyone is welcome. We are working in partnership with the council and other churches in the area so that the whole week is covered in Clowne with warm places to go for free: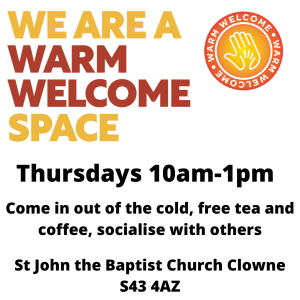 Clowne Methodist Church, North Road Clowne Chesterfield S43 4PF. Mondays from 9:30am to 1pm and Saturdays from 10am to 1pm.
Salvation Army Hall, Church St, 5a Ringer Ln, Clowne S43 4JS. Tuesdays from 9am to 2:30pm and Fridays from 9am to 2:30pm.
Clowne Community Centre, Recreation Close, Clowne S43 4PL. Wednesdays from 9am to 12pm and Sundays from 5pm to 8pm.
St John the Baptist Church, Church Lane, Clowne S43 4AZ. Thursdays from 10am to 1pm.
Clowne Liberal Club, 1 North Road, Clowne. 01246 810559. Monday to Sunday 10am to 12noon.