We are welcoming new members to our Royal School of Church Music (RSCM) affiliated choir. Our rehearsals are every Friday at St James Barlborough from 5.45pm for children, 6.10pm for adults -7.30pm. The choir sings at the Sunday morning Eucharist fortnightly and Choral Evensong monthly as well as special concerts and services through the year – not least at Christmas!
There are clear health benefits to singing in a choir – many of which we missed during the pandemic. Why not start something new in 2022 and come and join our choir.
Email our choir director Gordon Stables for more information.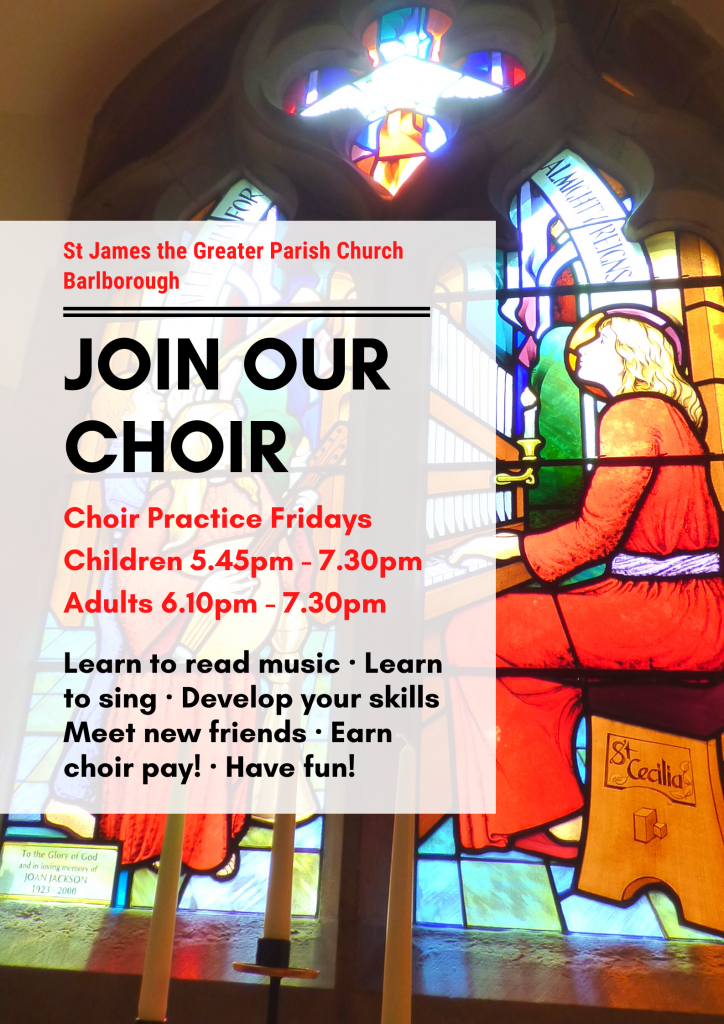 We are especially looking for some more young people to join the choir.
Parents, I'm sure you've seen programmes presented by Gareth Malone and 'The Choir' and seen the transformation that singing has brought to school children, military wives, workplaces and towns.

Gareth began singing in a church choir. Tina Turner, Whitney Houston, Justin Timberlake, Jessica Simpson, Kevin Costner, Simon Le Bon, Usher,
Brandy Norwood, Snoop Dog, Katy Perry, John Legend, Aretha Franklin and
Britney Spears are just some of the many singers who started in a church choir.

Our past choristers have gone on to read music at university, join drama schools, have a career in musical theatre and take graded singing exams including Grade 8. St James Choir has been the springboard for choristers to join regional and national choirs and RSCM choirs. Our choristers have become the backbone of their school choirs, taking on the solos, the lead roles in school musicals and becoming leaders at their schools through their improved confidence. Our choristers have become the Head and Deputy Head Girls and Boys and the leaders of their CCF. Our choristers go from shy barely audible singers to confident centre stage performers, able to sing the solo from Once in Royal David's City to a packed church or school carol concert.
Teach your child football or netball, cricket or athletics and they will learn skills and gain enjoyment for perhaps 10 or 20 years. Give your child the gift of singing and they will learn skills and have enjoyment for life.