Listen to the audio version of this here:
https://anchor.fm/bcjj/embed/episodes/Stations-of-the-Nativity-7-the-visit-of-the-Magi-eo1rnn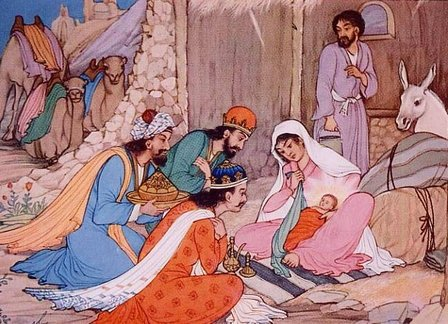 In the time of King Herod, after Jesus was born in Bethlehem of Judea, wise men from the East came to Jerusalem, asking, 'Where is the child who has been born king of the Jews? For we observed his star at its rising, and have come to pay him homage.' …

Then Herod secretly called for the wise men and learned from them the exact time when the star had appeared. Then he sent them to Bethlehem, saying, 'Go and search diligently for the child; and when you have found him, bring me word so that I may also go and pay him homage.' When they had heard the king, they set out; and there, ahead of them, went the star that they had seen at its rising, until it stopped over the place where the child was. When they saw that the star had stopped, they were overwhelmed with joy. On entering the house, they saw the child with Mary his mother; and they knelt down and paid him homage. Then, opening their treasure-chests, they offered him gifts of gold, frankincense, and myrrh. And having been warned in a dream not to return to Herod, they left for their own country by another road.

Matthew 2:1-12
The wise men were fundamentally changed by their encounter with the Christ Child. So much so that they went home by a different road, they didn't go back the way they came. We can't go back to how life was before the pandemic, we need to find a new road to move forwards.
Take a moment to ask God to be with you as you look to the future, following an unknown road.
We adore you O Christ and we bless you
Because by your Holy Nativity you have given us new birth