We have planned all of our services up to the end of January with a mixture of in-person, online and over the phone events to be as safe and inclusive as possible. Below are all the dates for your diary.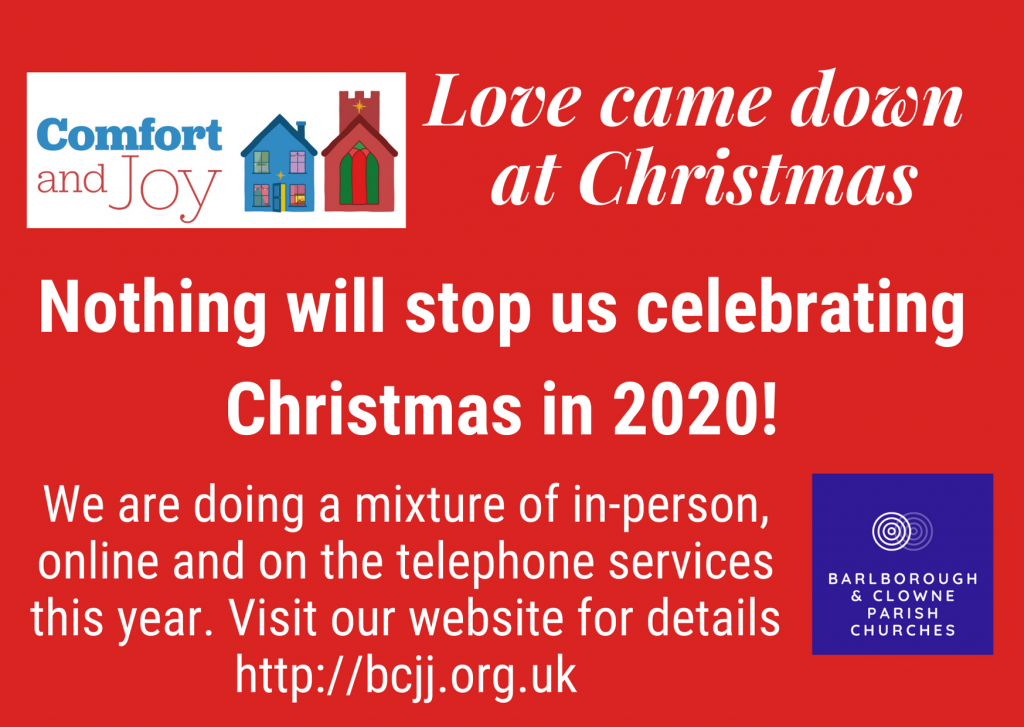 All services available to view either live on Facebook or after broadcast on YouTube.
Thursday morning Phone Church to continue as normal.
In-person services are of course subject to change if coronavirus restrictions change.
See the Church of England website for the most recent guidance: https://www.churchofengland.org/more/media-centre/coronavirus-covid-19-guidance-churches#na
Sunday, November 1 – All Saints – 10am at Clowne
Tuesday, November 3 – All Souls 7pm – service on Facebook live and thereafter uploaded to YouTube. Please give names to be read out to Rev'd Bryony (or ring 813569).
Sunday, November 8 – Remembrance – Barlborough – 10.15am (Invitation only)
Closed service to be livestreamed on Facebook and put on YouTube later. Those in attendance will be the choir and all wreath bearers. The Rector's sermon will be available on Dial a Sermon 01246 388487. Those with no internet encouraged to listen to the sermon on the phone and observe the 2 minutes silence on their doorstep at 11am.
Sunday, November 15 – 2nd Sunday before Advent – 10am at Barlborough
Sunday, November 22 – Christ the King – 10am at Clowne
Sunday, November 29 – Advent 1 – 10am at Barlborough
Afternoon – prerecording of Advent Carols service. Choir at 3pm, service to be filmed at 4pm.
Sunday, December 6 – Advent 2 – 10am at Clowne
Advent Carols service premiered online (Facebook and YouTube) at 6pm for people to enjoy at home.
Sunday, December 13 – Advent 3 – 10am at Barlborough
Tuesday, December 15 –Light of Life Christmas remembrance service 7pm live on Facebook (available afterwards on YouTube) Give names to be read out to Rev Bryony.
Sunday, December 20 – Advent 4 – 10am at Clowne
9 Lessons and Carols Pre-recorded service premiered on Facebook and YouTube 6pm
Christmas Eve Thursday 24th December –
9.15am Phone Church Clowne – Christmas Eucharist
10.15am Phone Church Barlborough – Christmas Eucharist
3pm 9 Lessons and Carols on the telephone – our service played over the phone for those without internet to listen to. Dial 0333 0164 757 and then dial 51074674 # this is the Room Number, and 5602 # this is the Guest Pin.
Outside Carol Singing at 6pm Barlborough (details TBC)
Midnight Mass at Barlborough – 11.30pm ticketed service (split between Barlborough – 15 & Clowne – 15), service will also be livestreamed on Facebook
Christmas Day Friday 25th December
– Christmas Morning Eucharist at Clowne – 9.15am
Sunday, December 27 – Christmas 1 – 10am at Barlborough
Sunday, January 3 – Epiphany – 10am at Clowne
Sunday, January 10 – Epiphany 1- Baptism of Christ – 10am at Barlborough
Sunday, January 17 – Epiphany 2 – 10am at Clowne
Sunday, January 24 – Epiphany 3 – 10am at Barlborough
Sunday, January 31 – Candlemas – 10am at Clowne