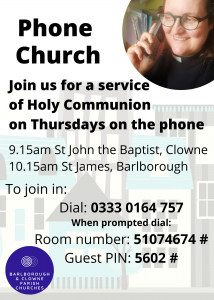 I was invited by a friend who is vicar of Lower Wensleydale to preach at his 'phone church'. I gave a sermon at his service over the telephone and I was inspired to set up the same system for our churches.
We are going to use a telephone conferencing system called WhyPay which doesn't cost us anything to run, it  simply costs those who use it the price of a low cost call to ring or if you have bundled minutes in your phone contract it is included in those. 
How does it work?
You dial the main phone number and then when prompted type in the Conference Room number and then when prompted again type in the Guest Pin number and then you're in the 'room' with everyone else on the line at the same time. If you are the first to arrive you will hear some music playing and then when a new person arrives you hear a tone, just say hello and you'll be able to hear each other to say hello – just like when we arrive at church! Once we've all  greeted each other, we then work through the order of service in the normal way. Below is the order of service we will use which you can download to your computer and print out – I am also posting out hard copies to people I have addresses for.
If you know how to put your phone on 'speaker' or 'hands free' then do that when you ring so that you don't have to hold your phone.
Although not quite the same as being in our church building together, it is still a way for us to connect and especially a way for us to talk to each other in a big group. After the service people can stay on the line to catch up with each other – virtual tea and biscuits!
Feel free to dial the number (following the instructions below) and test out how it works before the day of the service.
We will do the Phone Church for the first time on:
Thursday 18th June 2020
9.15am Clowne
10.15am Barlborough
I will be on the line to greet you from 9am and 10am – so get yourself settled and dial in any time from then.
After 18th June the Phone Church will take place every Thursday until further notice. I look forward to hearing all your voices!
Rev Bryony
Joining instructions
Using your telephone (landline OR mobile) dial:
0333 0164 757
See if you can put your phone on 'speaker' or 'hands free' so that you can move it away from your ear. This isn't essential but might make it easier for you.
You will hear a woman's voice saying "Welcome to Whypay (and a short marketing message)" then, "Please enter your conference room number followed by the hash key". So using your keypad type in:
51074674 #   – this is the Room Number
You will then hear the same voice say "Please enter your Guest Pin followed by the hash key" So using your keypad type in:
5602 #   – this is the Guest Pin
When you are connected if you are the first on the line some music will play, when someone arrives you will hear a tone, just say hello to each other and when everyone is there we will begin.