An inter-generational group of people have come together at Clowne Parish Church to create a new mosaic as tribute to the mining heritage of Clowne and the surrounding area. Clowne Miners Chapel (inside the church) has not been used for many years. Most residents of Clowne have a connection with mining in their families and Rector Bryony Taylor wanted to involve as many local people as possible in the refurbishment of the space to make it a fitting memorial to those who worked in local collieries and who lost their lives in disasters.
Watch a clip from Bolsover TV about the mosaic creation:
Rector, Rev'd Bryony Taylor said:
"We want to return the chapel to the community so that it is a space that provides a welcome, celebrates our mining heritage and offers the opportunity for prayer and reflection."
After a successful bid to Tesco Bags of Help and working in partnership with Junction Arts and artist Coralie Turpin, a wide variety of people gathered to share their memories of mining and create a design that can be enjoyed for generations to come. The design includes an image of a miner and a nurse. The nurse was inspired by Iris Pettitt (pictured), a parishioner who was working at the hospital in Worksop when the Creswell Colliery Disaster of 1950 happened, she treated the injured on that terrible day. Around the edge of the mosaic are smaller pictures of people's hobbies and home life, including a picture of a whippet, a pigeon, a cornet (referencing brass bands) and even a pint of beer!
These smaller pictures were taken to the housebound of our community so that although not able any longer to visit the church, they could still be part of this special project and make their contribution.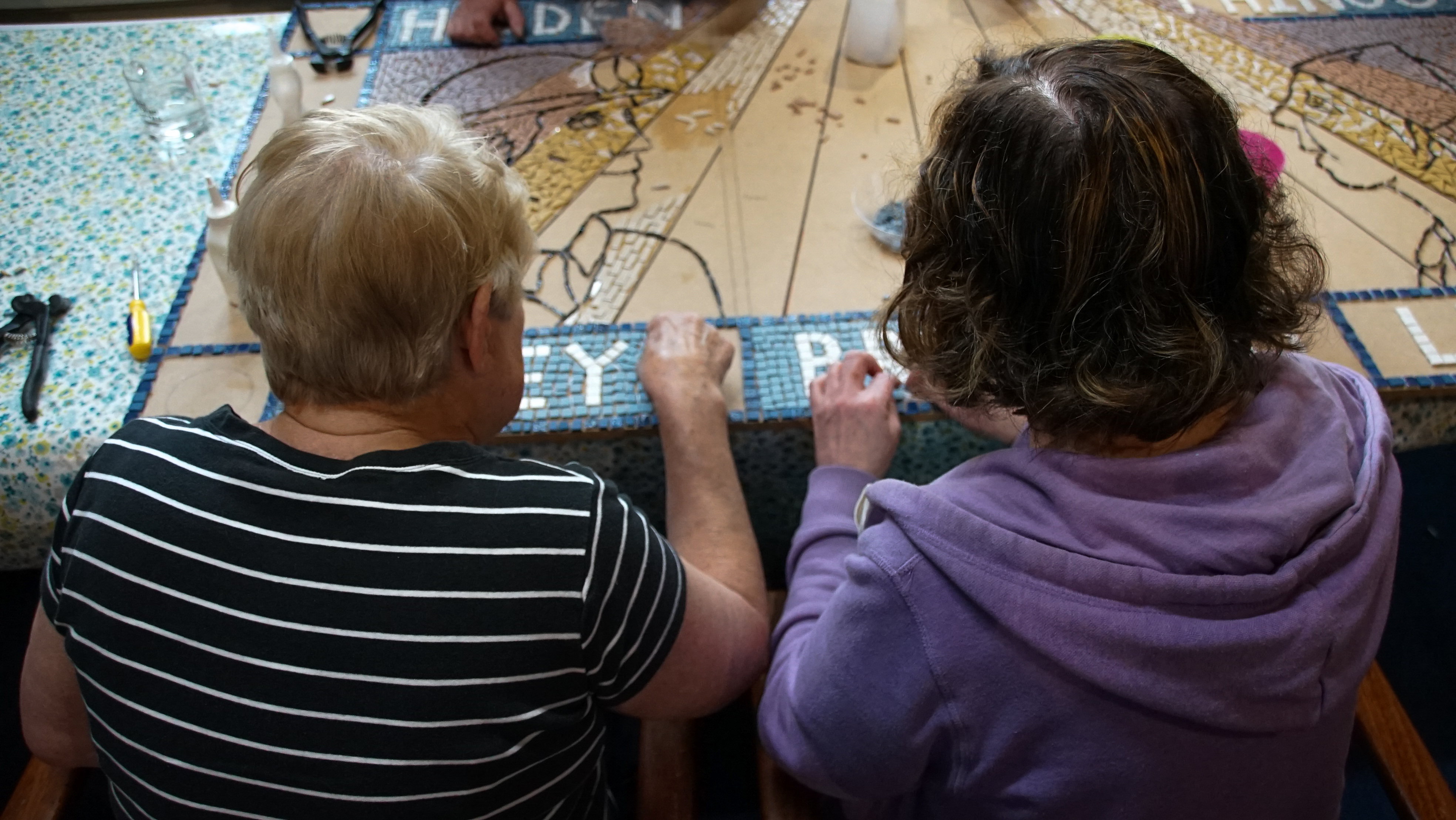 Photo: Sophie Marples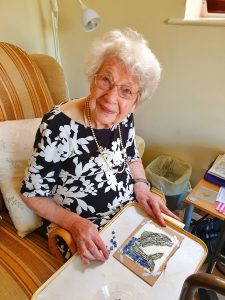 Iris Pettitt, joining in from home – photo by Bryony Taylor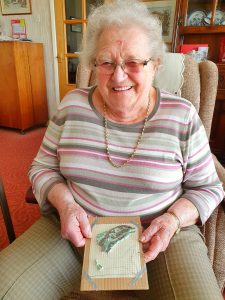 Barbara Needham – joining in from home – photo by Bryony Taylor
The project was documented by Chesterfield College photography student, Sophie Marples.
Rector, Rev'd Bryony Taylor said,
"Our mining mosaic has a bible text about miners saying 'hidden things they bring to light' – that is what we are also doing with this mosaic – bringing into the light our memories and stories of mining in our district. We hope the images will call to mind people's own family stories and enable them to pass them to the next generation."
The new mosaic is to be revealed in Clowne Parish Church at our Mining Festival on Saturday 22nd June – doors open at 10am, all are welcome to come and celebrate and remember the rich heritage of our district. A special celebration service will be held in church on Sunday 23rd June at 10am.
Notes for Editors
Find out more about Clowne Mining Festival on the church Facebook page: http://facebook.com/stjohnthebaptistclowne.
Images of the mosaic project can be found on the Junction Arts website here: https://junctionarts.org/projects/miners-chapel-mosaic/
The church is accessible for wheelchairs. The church postcode is S43 4AZ.
The Rector is available for interviews and photographers are welcome. Tel. 07960 735352 or email revbryonytaylor@gmail.com