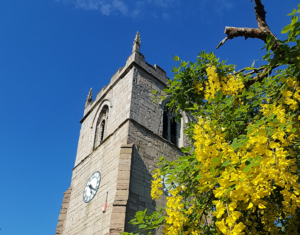 St. John the Baptist – Clowne Parish Church was built in 1138.
For more than 870yrs.  Our Church has been a most important focal point of the  community of Clowne.  Originally a monastic foundation, situated adjacent to the Ridgeway route from Mansfield to Worksop Priory, it provided comfort and shelter to many travellers.
At first dedicated as  "All  Saints",  the Church was rededicated as "St. John the Baptist"   The  first Rector of the Parish was John M. Leyaster recorded in 1299  since then there have been 48 Rectors of St. John the Baptist Parish Church in Clowne. Our current Rector Bryony Taylor is the 49th and first woman Rector!
The tower was added in the 15th century and bells installed in 1591, 1616 and 1812.  The limestone fabric and slate roof make the Church a most attractive, and popular venue,  particularly for weddings, baptisms and due to the generations of Clowne people who have worshipped at St. John's, the Church is entrusted with many funerals and offers solace to the bereaved
The Church was extended during 1955 to generate additional space for the Sanctuary, Choir stalls and Organ. Also at this time two side Chapels were created, one as a Children's Chapel the other a Miners' Chapel in memory of the 80 local miners who lost their lives in the Creswell Colliery Disaster in September 1950. 
The significance of the event is featured on the stain glass windows within the Chapel.
Our Church also displays two paintings by Jean Baptiste Butatte – The Ten Commandments and The Ascension.